Yes, thanks for asking, I will visit your school. In fact, I'm there right now. Waiting outside the office. Haha, not really. But that would have been cool if I were.
Anyway, let's start planning my visit!  I offer several engaging, educational, and fun presentations along with an optional workshop (see below). I even do virtual Skype visits! I'm also happy to sign books that have been pre-ordered. My presentations work best for K-3.
Please contact me for more info.
Mr. McCleery's presentation was engaging and educational. His ene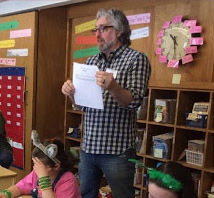 rgy motivated my class to become authors of their own books. His creativity and enthusiasm is infectious.
-Jennifer McDonald, Riverdale Grade School
Peter McCleery's presentation this summer was engaging and informative for both children and their parents. He had our attention the moment he started sharing his journey of writing and publishing his book! He ended with a great Q & A session, crafts and tattoos! The kid's were thrilled to meet a "real author" and hope he comes back again.
-Sharon Gulla, Childrens Librarian, Moultonborough, NH
Peter's warmth, good humor and relatability make meaningful learning fun. I invited him into our media center as a visiting author and have invited him back many times, as he is highly engaging.
– Lisa Becker, Library Media Specialist, Riverdale Grade School
Presentations Offered
From Blank Page to Book
This fun and dynamic slideshow follows the journey of how BOB AND JOSS GET LOST! and other books are created. Starting with that age old question, "Where do ideas come from?" we discuss first drafts, revisions and working with editors and illustrators. Everything you wanted to know about how picture books are created! A Q & A follows.
How to Build a Story
After a fun reading of BOB AND JOSS GET LOST! I reveal the basic elements of what all good stories have in common. In this easy-to-follow slide presentation (with an optional hands-on workshop) we'll use well-known examples to showcase the techniques, questions and basic building blocks writers use to create satisfying stories: The Who, The What, The How and The Other Stuff.
Optional Add-on Workshop for "How to Build a Story"
In this supplemental, hands-on workshop each student will apply the elements in the presentation to develop an outline for their very own original story. We'll use simple step-by-step worksheets to brainstorm ideas and answer important questions about their story. By the end of the workshop they should have the basic building blocks they need to write a satisfying story to be completed at a later time.
SKYPE VISIT
In this fun virtual visit I will read a selection of my books and then answer questions from students.
These visits last about 30 minutes but can be adjusted based on your needs. Please limit to smaller groups (under 50 students please).
Rates
FULL DAY:  (includes up to three presentations and/or workshops)
$750+ travel expenses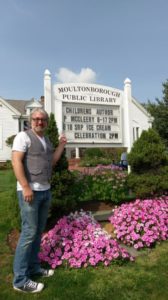 OR
order a minimum of 50 of my books! (which I am happy to sign)
SINGLE PRESENTATION OR WORKSHOP:
$300 each + travel expenses
OR
order a minimum of 30 of my books! (which I am happy  to sign)
30 min. SKYPE VISIT:
$75 each
OR
order a minimum of 10 of my books!